Get to know Harry Josh, renowned celebrity hairstylist, TV personality and the man behind the iconic and most Instagrammed luxury hair dryer.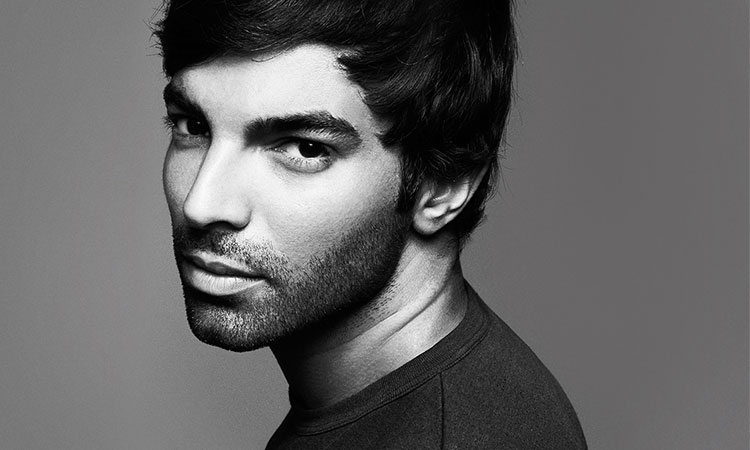 Before the matte, mint-green hair dryer started populating our Instagram feeds a few years ago (thanks, Miranda Kerr), we never thought of our hairstyling tools as a status symbol. Before we tried what 81 mph felt like on our hair, we were more than happy to sit a few minutes longer in front of our mirrors with our trusty drugstore hair dryers or just head out the door with slightly wet hair. (No one has ever actually died from a little unwanted frizz and a few limp sections of hair, right?) But all that has changed. Thanks to Harry Josh Pro Tools Pro 2000 hair dryer, doing our blowout at home will never be the same.
Say what you will, but our obsession with this hair dryer is not unfounded. After all, it was developed by Harry Josh, the celebrity hairstylist behind some of the most famous manes on the runway and the red carpet: Rose Byrne, Jennifer Garner, Gwyneth Paltrow, Tina Fey, Ellen Pompeo and Gisele Bundchen, to name just a few—some of them also happen to be his best friends. As one of the most sought-after editorial hairstylists in the world, his work can also be seen on the pages of prestigious fashion magazines like Harper's Bazaar, British Vogue, GQ, Allure, Teen Vogue and V Magazine—no easy feat, if you ask us.
But despite Harry's celebrity status in the world of fashion and the incredible fame his line of iconic hairstyling tools has received, his success is completely self-made. A Vancouver native, he packed his bags at the young age of 18 and set out for New York. His unique process of coloring and skilled hand at cutting encouraged many of the top models and industry professionals to venture to his apartment for styling sessions. Word traveled to Vogue, and the rest, as they say, is history. Watch the video below to get to know Harry, his hairstyle inspirations and the driving force behind his iconic hair dryer.

6 Things You Didn't Know About the Harry Josh Pro Tools Hair Dryer
When he's not styling famous heads or making appearances as a renowned hair care expert on TV shows and in fashion magazines, he busies himself doing things like dreaming up the next big thing in hairstyling. That's how the iconic Harry Josh Pro Tools Pro Dryer 2000 came about. If you haven't checked out this amazing hair dryer yet, here are six reasons why you should:
1. It dries your hair faster.
The most powerful dryer in its class, it can blow air at 81 mph! But what exactly does this mean to you? If it normally takes you 20 minutes to dry your hair in the morning, this hair dryer cuts your drying time in half, giving you an extra 10 minutes to do your makeup, prepare yourself a quick breakfast or stop by Starbucks on your way to work. Shorter drying time coupled with its advanced filtration system also means reducing energy consumption by as much as 70%.
2. It adjusts according to your hair needs.
Maybe some days you'd like to look polished and put together; others like you spent the day on the beach. This dryer lets you do that with its ion technology, which you can turn on and off, depending on the hairstyle you're aiming for (turn ion on for a sleek finish and off to volumize limp locks). It also offers multiple heat and speed settings to cater to different hair types.
3. It's lightweight and portable.
Even if you're not a frequent flyer, you'll appreciate its compact, lightweight design, which perfectly conforms to your hand for maximum comfort and control.
4. It's designed to outlast all other hair dryers.
Thanks to its super-sophisticated, 2,000-hour motor, this tool promises to last for a good 15 years—even if you blow-dry your hair every single day. If you do the math, $169 for something that will last a lifetime doesn't seem like a splurge, does it?
5. It's handmade in France. 
This dryer, designed by Harry himself, features a sleek, matte mint-green exterior, which, like so many of the most beautiful things in the world, is handmade in France. How many things do you own that are handmade in France?
6. It's award-winning. 
Because it has consistently outperformed its competition in terms of speed, durability and frizz reduction, it's not surprising that Harry Josh Pro Dryer 2000 is a recipient of several prestigious awards, including Allure's Best of Beauty award and Glamour's Best Pro Hair Product, to name a few. If that's not enough to convince you that it's the best hair dryer in its class, we don't know what will.