Last Updated:
30/03/2023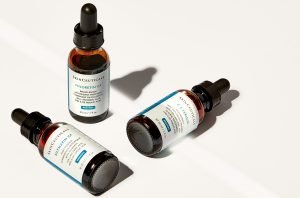 SkinCeuticals & Vitamin C
A vitamin C serum is a morning skin care staple with major anti-aging benefits. And there are plenty of reasons why SkinCeuticals' C E Ferulic is the most sought-after vitamin C serum of all time. It's been vetted by scientific studies galore and has thousands of five-star reviews from Dermstore shoppers, for starters. But it isn't the only powerhouse vitamin C in the brand's repertoire—which also includes Phloretin CF and Silymarin CF. All three formulas help prevent and correct damage from oxidative stress (dark spots, fine lines and wrinkles) and are backed by serious science.  
As an industry leader, SkinCeuticals holds several patents and countless awards praising their high-quality standards for product synthesis and testing. While vitamin C is a major player in many of the SkinCeuticals antioxidant serums, the addition of other ingredients like ferulic acid and vitamin E in their serums is what has allowed SkinCeuticals to create powerful serums ideal for different skin types and concerns. 
Vitamin C Serums & Treating Skin Care Concerns
Vitamin C is a powerful antioxidant that offers a range of benefits for your skin. It has been shown to protect your skin from free radical damage while improving the skin's texture and natural protective barrier. 
Vitamin C increases collagen production – One of the primary benefits of vitamin C is its ability to stimulate collagen production. Collagen is a protein that gives your skin its structure and elasticity, and as you age, your body produces less of it. By using skincare products that contain vitamin C, you can help to stimulate collagen production and keep your skin looking youthful and supple. 
Protects from free radicals – Vitamin C also helps to protect your skin from damage caused by free radicals. Free radicals are unstable molecules that can cause oxidative stress, which can lead to premature aging and other skin problems. Because of its potent antioxidant properties, vitamin C neutralizes free radicals, helping to keep your skin healthy and radiant. 
Improves skin tone – Vitamin C is widely praised for its ability to brighten your complexion. It can help to reduce the appearance of dark spots and hyperpigmentation, giving your skin a more even tone. In addition to evening your skin tone, it will help brighten your skin for a more radiant appearance after consistent use. Vitamin C is a dermatologist favorite because it is a single ingredient that can help to improve the overall texture and quality of your skin. Its gentle exfoliating effect can help to remove dead skin cells and unclog pores, leaving your skin looking smoother and more refined. 
What Are The Best SkinCeuticals Vitamin C Serums?
So, which vitamin C serum should you be using to start your day? It all comes down to your skin type. Vitamin C can provide a large range of benefits to all skin types, but finding the right formula for your skin is critical for getting the best results. We checked in with SkinCeuticals educator Shari Ballinger to learn more about these three antioxidant serums—and to help you find your ideal match. 
Buy now

with Dermstore

SkinCeuticals
C E Ferulic

This gold-standard vitamin C serum offers "serious anti-aging benefits and prevention" for drier types or even sensitive skin, says Ballinger, who notes that the vitamin E (alpha tocopherol) in the formula can help replenish lipids. Its blend of potent antioxidants, which also includes ferulic acid (a plant-based antioxidant that enhances the benefits of vitamins C and E), "is designed to help improve the appearance of fine lines & wrinkles, photodamage and loss of elasticity all while brightening the skin," she explains. Another serum that is great for first-time vitamin C users and those with dry or sensitive skin is the SkinCeuticals Serum 10 AOX.

See customer reviews for this product.

Buy now with free delivery