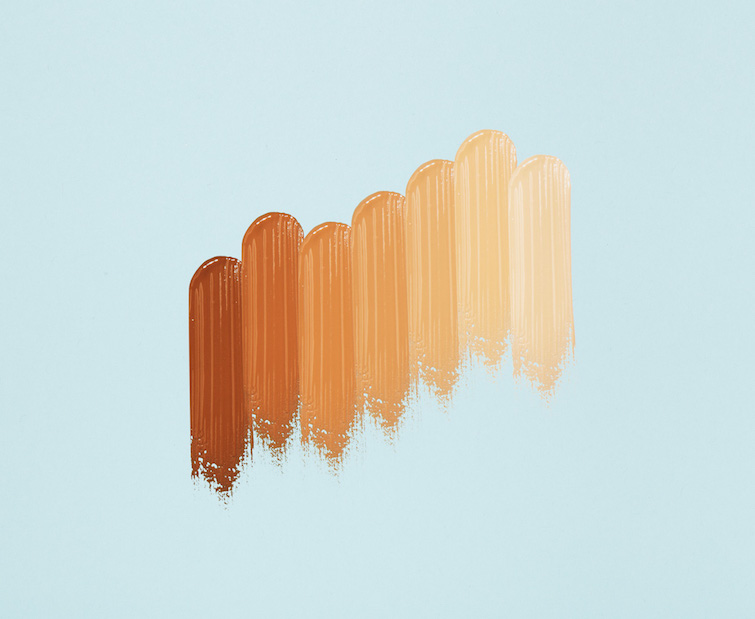 When it comes to applying color to our faces, we have tons of different options. From just a hint of color to complete opaque coverage, the choices never end. Picking the right one depends on your skin type and the type of finished look you're going for—and it's a lot more complicated than just matte or dewy.
We turned to a few makeup experts for a breakdown of the different types of face makeup: foundation, tinted moisturizer, BB cream and CC cream.
Foundation 
What Is It?
Traditional foundation may be the underlying basis of your makeup bag. Developed for the appearance of a naturally flawless complexion, there are now numerous types available: liquid, pressed foundation powder, mineral, cream and stick foundation. Try a sunscreen powder combo for full coverage and sun protection.
Pros:
Foundation provides the maximum coverage for when you want to cover up just about anything. Makeup artist Hillary Kline loves foundation, as it, "evens out the appearance of your complexion, [is a] relaxing part of my getting ready routine, [offers] buildable coverage and conceals fine lines and enlarged pores."
Cons:
Can appear cake-y if you apply too much. Apply a thin layer of moisturizer or primer under your makeup to prevent foundation from settling into fine lines.
Ideal For:
"Foundation is best used to provide medium to full coverage of the skin," says makeup artist Mindy Green. "If your goal is a smooth, even complexion, foundation is your choice." Because foundation can offer the most coverage out of all the products we're discussing, it's the best choice for hiding any imperfections—from redness to tattoos.  
Dermstore's Picks:
Powder: glominerals – Pressed Base Powder Foundation
Cream: Tarte Cosmetics – Amazonian Clay Full Coverage Foundation SPF 15 Sunscreen
Liquid: jane iredale – Liquid Minerals A Foundation
Tinted Moisturizer 
What Is It?
Tinted moisturizer is the optimal lightweight coverage for women on the go. Minimal coverage but with a sheer radiance and maximum hydration.
Pros:
It's light and the ultimate product for the "no makeup" makeup look. Great for busy working women and moms who need quick application.
Cons:
If you're really aiming to cover up blemishes, redness or any imperfections, this may not be the best bet. Tinted moisturizer can also sweat off easily on hot summer days, and may wear off sooner than other thicker options with more coverage.
Ideal For:
Low-key times where you're not feeling like wearing a lot of makeup. When compared to foundation or BB/CC creams, "tinted moisturizer typically has more moisture-binding properties such as hyaluronic acid or glycerin," says makeup artist and skin care professional Kayla Calloway, making it a great option for those prone to dryness or dehydration.
Dermstore's Picks:
SPF: EltaMD – UV Daily Tinted Broad-Spectrum SPF 40
Vitamin-Packed: This Works – Energy Bank Sun Flash
BB Cream
What Is It?
"BB stands for Beauty Balm," says makeup artist Caitlin Picou, "and this provides slightly more coverage than a tinted moisturizer. The main difference here is that they prime your skin along with moisturize." Lighter than foundation, but heavier than tinted moisturizers, BB creams appear best when set with a light finishing powder or bronzer.
Pros:
Easy to apply, no possibility of harsh foundation color lines and looks natural and dewy.
Cons:
Don't count on BB cream as your only method of sun protection. Be sure to apply a daily SPF beneath your makeup to avoid skin damage and harsh UV rays.
Ideal For:
"BB Cream is your answer if you want the most in skin care and foundation without buying multiple products," says Green. "If you want all the benefits of a tinted moisturizer, plus sun protection, antioxidants, makeup primer or additional anti-aging or acne ingredients, the beauty balm is for you."
Dermstore's Picks:
Sensitive Skin: My Skin Mentor Dr. G – Daily Safe BB SPF 30 PA++
Oily/Acne-Prone Skin: La Roche-Posay – Effaclar BB Blur
Natural/Vegan: Pacifica – Alight Multi-Mineral BB Cream
CC Cream
What Is It?
Try this "color corrective" formula if you're aiming to brighten up your skin and address issues like redness or sallow coloring. If you're trying to even out your skin tone, you'll enjoy this creamy, light formula, with a thinner base than foundation.
Pros:
Similarly to BB cream (you can compare the two here), CC cream can be essential for targeting everyday skin concerns and is light enough for daily use.
Cons:
CC benefits and coverage may vary from brand to brand. You may need to be diligent and try out a few before finding which is right for you.
Ideal For:
Dark under-eye areas, redness or hyperpigmentation. "CC cream is corrective and excellent for evening the skin tone, neutralizing redness or concealing post-inflammatory hyperpigmentation," says Calloway. 
Dermstore's Picks:
Anti-Aging: Phytomer – CC Creme
Multitasking: Juice Beauty – STEM CELLULAR CC Cream