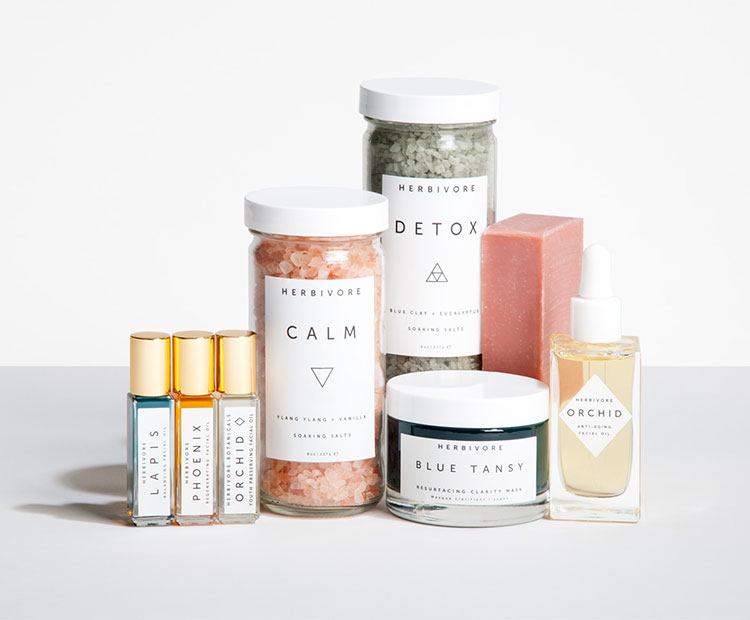 Whether you're a beauty brand loyalist or someone who enjoys the thrill of discovering new products, chances are you've encountered them—those nameless, beautifully packaged concoctions formulated—not in some fancy, high-tech lab—but in a rural kitchen not too different from yours (or ours). Normally seen in farmers' markets, specialty boutiques, niche online beauty stores and the beauty aisle of your favorite organic grocery store, these lesser-known beauty brands, also called "indie beauty brands," have caught the attention of beauty editors and bloggers nationwide.
"Indie beauty means something different depending on who you ask," explains Dermstore's beauty buyer for Natural and Spa categories Ashley Vandyke. "Here at Dermstore, we believe indie beauty are items and brands that have not gone mainstream yet. They are undiscovered, untapped hero products that usually have great founder stories, great ingredient lineup and beautiful packaging."
Ready to find a new favorite? Ashley and fellow Dermstore beauty buyer Vanessa Foote share their 12 most favorite indie beauty brands on Dermstore.com.
Buy now

with Dermstore

Everything you could possibly want in a hairspray is all in one sleek bottle. The Rahua Defining Hair Spray provides a brushable, medium-hold finish with an unheard of 90% natural formula. Organic ingredients smooth frizz and flyaways with weightless nourishment. This multifunctional spray creates lasting definition with hold strong enough for all hair types. Plus, the built-in antioxidants provide UV protection to keep your color from fading.Key Ingredients: * Organic Aloe: smooths hair while nourishing and hydrating * Green Tea Leaf Extract: rich in antioxidants that protect hair and scalp

Buy now with free delivery

Buy now

with Dermstore

Supergoop!® Handscreen SPF 40 features an innovative complex of active botanicals, antioxidants and suncreens that correct and prevent the visible signs of aging in your hands. Omega-rich sea buckthorn extract diminishes hyperpigmentation and increases elasticity. Meadowfoam and argan oils increase firmness and UV filters defend against environmental

Buy now with free delivery

Buy now

with Dermstore

Harnessing the power of natural odor-fighting ingredients, Ursa Major's Hoppin' Fresh Deodorant keeps you wonderfully dry and odor free. Made from 100% naturally derived ingredients, this refreshing deodorant gently absorbs excess moisture and soothes the delicate underarm area.Key Ingredients: * Hops: neutralizes unpleasant odors * Aloe Vera: soothes and hydrates * Baking Soda: inhibits odors and neutralizes acid * Kaolin: a soft, mild clay used for its moisture-absorbing properties * Eucalyptus: fights odor-causing bacteriaKey Benefits: * Eliminates odor-causing bacteria * Offers

Buy now with free delivery

Buy now

with Dermstore

24-7 Moisture Hydrating Day & Night Cream (formerly Known as Hydrating Day and Night Cream) from TULA Skincare features patented, clinically proven probiotic extracts to deliver deep hydration and soothe dull skin. This multitasking powerhouse

Buy now with free delivery

Buy now

with Dermstore

Over time toxins build up in your body leading to a lackluster complexion, periodic blemishes and indigestion. By incorporating HUM Nutrition Daily Cleanse® into your every day routine, you'll rid your body of those toxins and reclaim smooth, healthy skin. The daily detox supplement cleanses from the inside. The blend of detox herbs, minerals and organic algae clear your skin, liver, bowel, kidney, lungs and lymphatic system of harmful toxins. Recognized for its antibacterial and anti-inflammatory properties, the green cleanse is suitable for vegetarians and vegans alike. Bottle should last

Buy now with free delivery

Buy now

with Dermstore

Herbivore Botanicals Rose Hibiscus Coconut Water Hydrating Face Mistinstantly hydrates, targeting dullness and dryness. The addition of naturally-derived, moisture-binding hyaluronic acid to a base of organic rosewater, coconut water and hibiscus extract instantly hydrates and softens skin. The new superfine mist is perfect to spritz on clean skin or over makeup, keeping skin dewy and fresh throughout the day.Key Ingredients: * Hibiscus Flower Petals: exfoliate skin and support cellular turnover with rich citric and malic acids * Witch Hazel: tightens skin and reduces inflammation or

Buy now with free delivery

Buy now

with Dermstore

Buy now

with Dermstore

Knowing that a good night's sleep is the pivotable first step in any beauty regimen, This Works created their Deep Sleep Pillow Spray. This miracle solution helps you relax by fragrancing your bed with a soothing and calming scent. The sleep aid spray is infused with essential oils that help you fall asleep faster and enjoy every minute of your relaxing slumber.Key Ingredients: * Lavender, Vetivert and Wild Chamomile Oils: soothe your body and mindKey Benefits: * Natural pillow spray helps you fall asleep faster * Calming fragrance helps you to enjoy a deeper, more restful sleep * Helps users

Buy now with free delivery