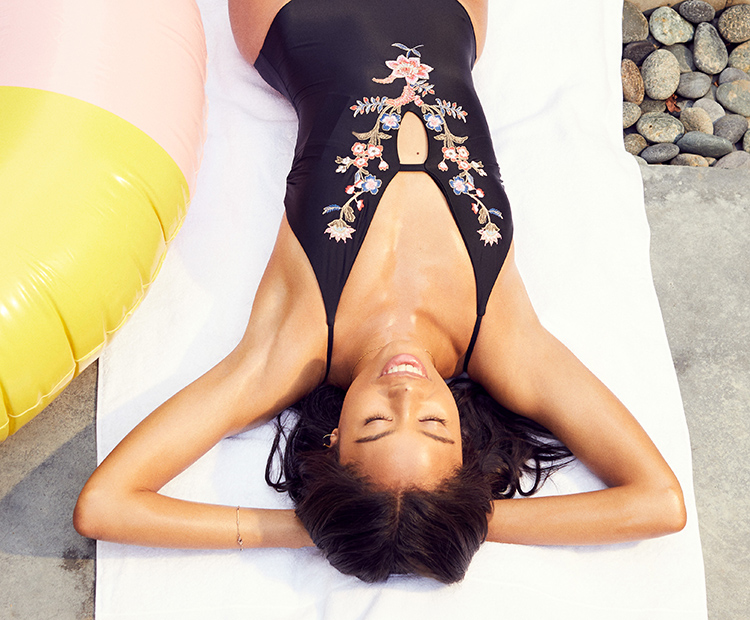 Winter can be harsh on your skin, but between all the bug bites, sunburns and sweat, summer can cause just as much damage. Add in camping extravaganzas, hiking trails and spontaneous road trips, and the great outdoors can throw your springtime glow for a loop. To combat that, we spoke with skin care experts to address the biggest skin concerns during hot weather. Follow these seven summertime strategies to keep your skin healthy before and after the beach, camping and hiking.
1. Amp Up Your Sun Protection
We all know that beach skin care basics begin with a base of SPF 30 to SPF 50 for protecting against the sun's harmful UV rays. But most of the time, we only apply sunscreen on areas that we assume gets the most sun exposure, often forgetting about those hard-to-reach nooks and crannies. Remember that melanoma, the most dangerous form of skin cancer, can appear anywhere on the body, including areas we neglect to protect from the sun—like the palm of our hands, the top of our ears, the soles of our feet and especially our lips. Lucky for us, sunscreens now come in different formulas and packaging, making it easy for us to apply and reapply sunscreen whenever, wherever! And as for your lips, to keep your pout looking and feeling healthy, reach for a water-resistant lip balm boosted with SPF, like EltaMD UV Lip Balm Broad Spectrum SPF 31. Your silky-soft lips will thank you later.
2. Don't Sweat It
Nothing feels better than a good sweat session at the gym or while hiking, but while sweat is actually good for your skin, it can also cause a lot of negative things, like skin rashes and clogged pores on the face and back.
"Although sweat helps clear the skin and open your pores, sweat left to crystallize on the surface of the skin can block pores leading to acne and breakouts," explains Dr. Anne Guanche with the Bella Skin Institute. To keep acne at bay, Dr. Guanche says, "It's important to wash your face immediately after a sweat session" with an acne-fighting cleanser and to never ever "sleep in your face makeup or sunscreen from earlier in the day" because this can clog pores more and attract acne-causing bacteria.
Try: SkinCeuticals LHA Cleanser Gel
3. Stay Hydrated
On average, most people should be consuming eight 8-to-10-ounce glasses of water per day. "However, in the summer months, when we tend to sweat more, we lose more water and need to replace it," aptly states Dr. Katy Burris, dermatologist at Columbia Doctors and assistant professor of dermatology at Columbia University Medical Center. "This is even more important for those who exercise outdoors. When the skin is dehydrated, it can look tired and wrinkles may appear more prominent or noticeable."
Her advice? Hydration from the inside by always keeping a water bottle in hand and hydration from the outside with a nourishing moisturizer to improve the skin's appearance.
Try: SkinMedica Rejuvenative Moisturizer
4. Reduce Sunburn With Aloe Vera
Sunburns can be painful. Fortunately, there are a variety of ways to nurse a sunburn at home. "After a sunburn occurs, it can be helpful to use spray or a mist that contains aloe vera to help soothe the skin," explains Dr. Burris. "Most important, if the skin blisters, allow the blisters to heal. These serve as natural bandages to prevent infections," she adds.
"I recommend iS Clinical's Hydracool Serum for summer temperatures," adds  Dr. Guanche. "It cools and moisturizes sun-kissed skin."
5. Repel Bugs With Botanical Extracts
Most of the time, purchasing a bug spray from your neighborhood drugstore is your best bet to keep pesky bug bites at bay while camping or hiking. But if you're worried about DEET (or diethyltoluamide, the most common active ingredient in insect repellents), try using oil of lemon eucalyptus, which, according to a study published in the Journal of Insect Science in 2015, can be a great natural alternative to chemical-laden mosquito repellents.
Try: Zoe Organics Insect Repellent
6. Relieve Itchy Skin
Whether it's the bug bites or pollen in the air, itchy skin is sort of inevitable if you spend enough time outdoors. Luckily there's a solution for that. Turn to topical products that feature green tea and chamomile, which have anti-inflammatory properties that can reduce irritation and inflammation while calming and soothing skin sensitivity.
Try: DCL Dermatologic Cosmetic Laboratories Intensive Itch Relief Lotion