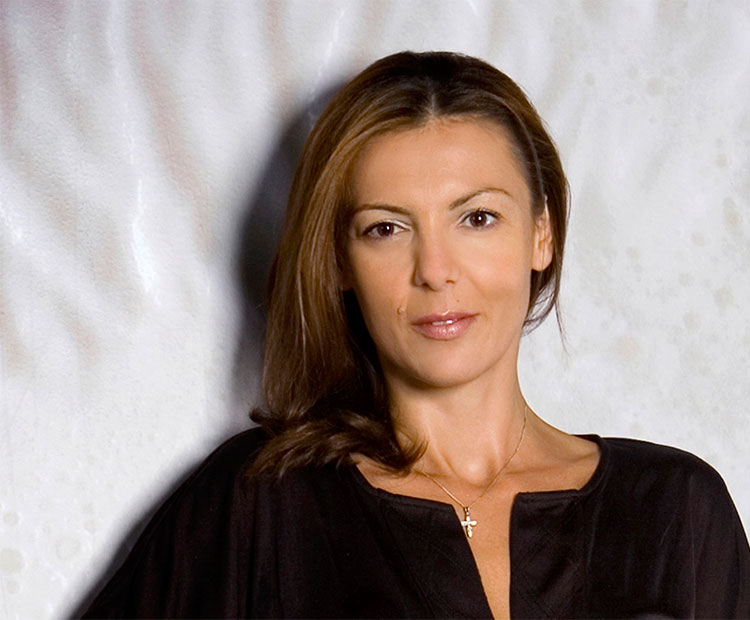 Lena Korres is no stranger to challenges. When she joined KORRES in 1996 as a chemical engineer, she and husband George—with his extensive background in pharmacology and deep understanding of natural ingredients and their applications—readily took on the task of creating safe, natural and clinically proven products that merged traditional homeopathic remedies with science, at a time when "organic" and "natural" were far from being the buzzwords they are today. Over the years, she has played a crucial role in KORRES' growth—from a small apothecary in Athens to the internationally acclaimed brand it is today. Below, Lena talks about her journey with Korres and the challenge of creating their exclusive Greek yoghurt skin care line.
Dermstore: You've built a successful beauty company with an amazing line of natural products. How did it all start?
Lena Korres: KORRES started out of the oldest homeopathic pharmacy in Athens, Greece. George Korres was working at the pharmacy while studying at the Pharmacy School of the University of Athens. He had a deep understanding of natural ingredients and how they work in our bodies and on our skin and saw that his customers wanted cosmetic formulas that followed those same guiding principles. I joined George with my background in chemical engineering and together we have been creating natural and best-selling skin care, body and color products for more than 20 years.
What was lacking in the industry that you wanted to fill with KORRES?
When we started 20 years ago, natural products were not as common as they are today. We wanted to create products that were natural, yet most importantly still effective and safe. Today, we continue to make innovative products with this same mission. We know how plant extracts work in our bodies and on our skin for maximum results and develop products based on both primary and applied research to understand the clinical benefits of natural ingredients in relation to skin biochemistry.
What challenges did you encounter when you were creating the line? How did you overcome them?
From a product development perspective, one of the biggest challenges I faced was in developing our Greek Yoghurt Collection. In Greece, yoghurt is a cherished tradition and a trusted beauty remedy to treat burned, sun-exposed skin. I thought there must be a way to bottle this up and put it in a skin care product—but it turned out to be much more difficult than I imagined! With a lot of research and patience, we developed a stable cosmetic formula that preserves all of the "live" benefits found in yoghurt. Incorporating edible yoghurt was a true innovation and a first in the global cosmetics industry! Now, the Greek Yoghurt Collection is a best-seller with items like the Greek Yoghurt Advanced Nourishing Sleeping Facial and the new Smoothie Priming Moisturiser.
What's your best skin care tip?
Don't forget your SPF—it's something that is always stressed when living in a Mediterranean climate! But even if live in an area with less direct sunlight, it's always important to include an SPF product to your skin care routine. Our Fluid Veil SPF 30 Sunscreen is a super hydrating formula that keeps your skin protected.
KORRES' skin care line is the perfect marriage of Aegean homeopathy and scientific innovation. Here are some our top picks, below!
Infused with wild rose oil and imperata cylindrica, this ultra-rich face and neck cream is packed with nutrients that intensely moisturize, hydrate, fight off signs of aging and even out skin tone. Use as part of your daily skin care regimen and be rewarded with a luminous complexion and radiant-looking skin.

Buy now with free delivery

Packed with the same nutrients and health benefits that make Greek yoghurt (it contains two and a half times the amount of protein in regular yogurt) a superfood headline, this overnight moisturizer also features hyaluronic acid and imperata cylindrica extract. Best for stressed and dry skin, this moisturizer makes the most of natural sources of protein, vitamins and minerals and lets you wake up to softer, glowing and refreshed skin.

Buy now with free delivery

Buy now

with Dermstore

Although we can't stop the aging process, this anti-aging serum can definitely slow it down with its natural formulation that features skin-renewing and antioxidant benefits of organic saffron, along with hydrating effects of hyaluronic acid. Amino acids, polysaccharides and copper help to boost collagen production and reduce fine lines and wrinkles.

Buy now with free delivery