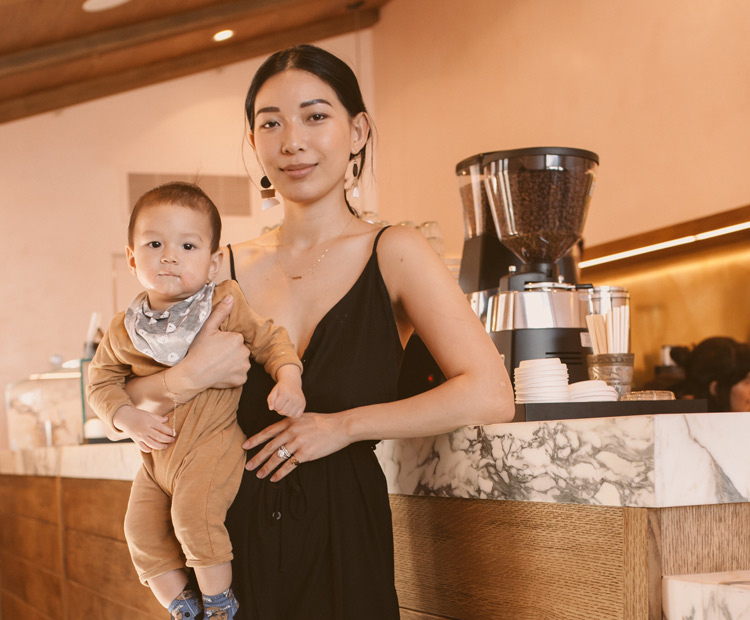 Known for her effortless and elegant style, Stephanie Liu Hjelmeseth of Honey & Silk is recognized as one of the blogosphere's top tastemakers. What started out as a food blog in 2011 quickly evolved into a stunning visual journal covering the latest in fashion, beauty, travel and now motherhood.
To get the details on this new and exciting addition, we caught up with this busy beauty about all things motherhood, from pregnancy to postpartum self-care tips. Keep reading to find out what products this new mom can't live without, plus how she changed her beauty and skin care routine (for the better!).
Dermstore: What's the best part about being a new mom?
SLH: The best part is that it's new for me and new for my baby, so we get to experience this crazy, new journey of childhood together, hand-in-hand.
What has been the biggest challenge during your pregnancy? And after giving birth?
The biggest challenge during pregnancy for me was making sure that I ate enough vegetables for both me and the baby! I ate very clean and mostly vegetarian pre-pregnancy, but as soon as I got pregnant, all I craved was pasta, pizza and meat. I developed an aversion to greens! I wanted to make sure my diet was balanced, so I tried green smoothies, green juices and supplements.
After I had my baby, I didn't expect how jarring it'd be to switch roles from my personal self as a working woman and wife to a full-time mom. It's a huge transformation and it completely takes over for a time. I've had to [learn to] manage my expectations and basically throw them all out the window.
How has motherhood changed your skin, hair and nails? 
Thankfully I didn't see much of a change in my skin during pregnancy. My skin was pretty tame, my hair has always been thick, but my nails grew extra strong and long. After giving birth, my skin became dry and dull and the fluctuation in hormones started giving me breakouts. Another thing that's been happening after the six-month mark is that my hair is starting to fall out.
How did you adjust your skin care and beauty routine as you experienced these changes?
I've added more serums, like a hyaluronic acid and vitamin-C serum. For my morning and nighttime routine, I've been using richer creams and face oils to moisturize and nourish my skin. Under-eye masks are always a must! I'm also taking collagen supplements to boost my hair and skin. I added in a detox mask 2x a week to minimize future breakouts and blemishes. Lastly, I drink a ton more water—up to 10 glasses a day!
While you were pregnant, what products did you add to your skin care routine and why? What did you avoid? 
I switched to using all natural and clean, non-toxic products, like One Love Organics Foaming Cleanser, African Botanics Pure Marula Oil and Ursa Major Hoppin' Fresh Deodorant. I made a rule that I needed to easily understand every ingredient going into my body, so sticking to natural formulas felt like a safer route. I avoided synthetic ingredients because I just wanted to keep my intake very clean for my baby's health.
Now that you've given birth, do you feel differently about your pre-pregnancy beauty routine? Are you back to your old regimen?
I've definitely streamlined my skin care routine down to my necessities and tried-and-true products. I only have a few minutes to myself in the mornings right now, so I just go for what I know will work for my skin all day long. After the baby goes to sleep in the evening, I'm able to take my time and give my skin extra TLC. I've definitely cut back from my pre-pregnancy beauty routine, but I think it's working great for my skin.
How meticulous are you in terms of what products your baby is using? What do you look for when reading product labels?
Since a baby's skin is really thin, it absorbs more of the products you apply, so it's very important to be mindful of what goes on your baby's skin. I look for natural ingredients and essential oils like lavender and tea tree oil.
Any skin care or beauty advice you'd like to give to expecting and new moms?
To the expecting moms: Take every chance you can to get pampered! Go get a pedicure, massage, hair treatment, facial, etc. every month until the baby comes! It's a treat you definitely deserve because growing a baby is tiring work.
To the new moms: Remember to drink a lot of water! Take the baby into the kitchen with you to hydrate and add a collagen supplement to boost your skin and hair. I tend to forget to eat and drink for hours while I'm taking care of my baby, so this simple advice really does wonders for keeping your skin glowing and your health top-notch. And make sure you have eye masks in the fridge so you can pop it onto your eyes whenever you need a pick-me-up.
Along with skin care, self-care is important for new moms. How are you taking care of yourself in between diaper changes?
I try to incorporate my pre-pregnancy rituals any time I can throughout the day, like brewing a warm cup of jasmine tea while he plays or resting with a moisturizing mask on my face while he naps. It's important to continue these little things that make me feel pretty and relaxed, even when I haven't washed my hair in days.
Stephanie's Top Self-Care Picks
Buy now

with Dermstore

These gold patches are my go-to before heading out to a meeting or an event. I throw them on under my eyes while I'm getting ready and by the time I'm out the door, my eyes look refreshed and glowing! It's like a magic cover-up for new-mom exhaustion.

Buy now with free delivery

Buy now

with Dermstore

Lately, I've been obsessed with the ReFa S Carat for my face. The roller replicates the massage technique you'd typically get during a facial and it feels so amazing, especially after a long night with the baby. Rolling with the ReFa helps de-puff and contour and leaves your face with a natural glow. I've just been going to my vanity whenever I have a moment to myself to relax with the ReFa!

Buy now with free delivery

Buy now

with Dermstore

I've been using this oil every night on my belly, arms and legs to rejuvenate my skin during my body's physical transition. It has helped reduce stretch marks and firm the skin on my belly post-pregnancy. I also like to massage it into my C-section incision to reduce keloiding and scarring.

Buy now with free delivery