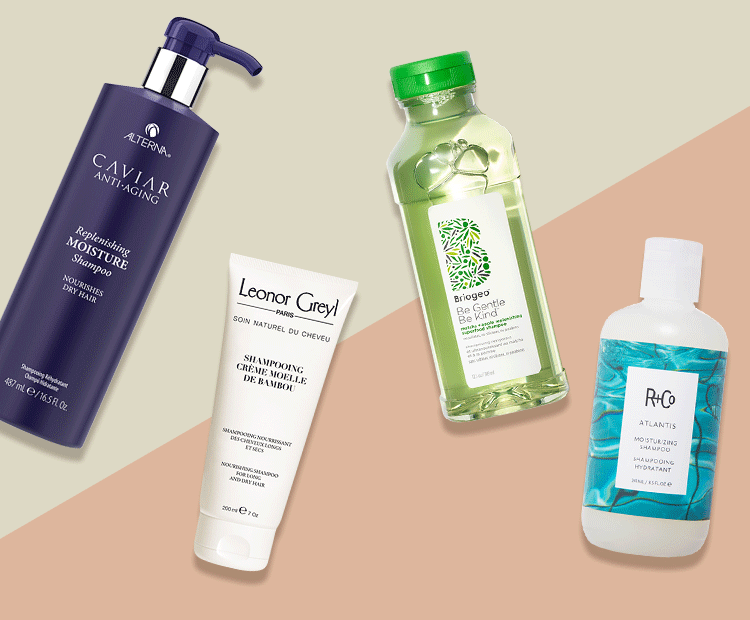 We all live for those good hair days when getting our mane ready in the morning doesn't have to feel like we're fighting a losing battle. But when those days start to become few and far between and you find yourself rocking a frizzy crown and snipping split ends, then you know your tresses are going through a hair emergency. If you're wondering how your locks got from bouncy and full of life to dry, dull and damaged, it may be time to re-think your hair-grooming habits and the products that touch your tresses. Starting with your shampoo.
How Hair Becomes Dry and Damaged
There are several factors that cause hair to become dry and brittle, says licensed cosmetologist and hair stylist Lexi Shelton. Hormone-related illnesses like hypothyroidism, in which the thyroid glands don't produce enough thyroid hormones, can have dry, weak and slow-growing strands as one of its symptoms. Genes also play a role. Menkes disease is a rare genetic condition that affects hair health due to the body's inability to absorb enough copper. However, Shelton says most hair damage is a result of mechanical, chemical and environmental factors: like heat and styling tools, over-brushing, color and chemical treatments and exposure to the elements.
"Hair can become dry from either using too much heat or products that strip the hair's natural moisture. Once it's dry, it loses elasticity and easily becomes damaged as there is no moisture to protect it," echoes MariLynne Cosmillo, director of education and operations for Cherry Blow Dry Bar. And while changing your hair color can score you major points in your hair game, certified hair colorist and salon owner Chrissy Stone says at-home coloring and bleaching without following instructions can also hurt your mane's strength and luster—not to mention "using a box of color that has too much ammonia or getting highlights that are too light," adds Shelton.
Even cleaning your hair, when done incorrectly, can be a major problem as over-washing can actually strip your hair of its natural oils and cause it to look dull and lifeless.
How to Restore Dry and Damaged Hair
Restoring dull, dry and brittle hair may sound like a lot of work, but Cosmillo says, "A healthy hair regimen will bring most damaged hair back to life in just a few months and can make hair look and feel smoother." While booking a professional protein treatment is guaranteed to rejuvenate lifeless locks, you can also give some much-needed nourishment to your hair at home. Swap out your usual shampoo, which may contain harsh chemicals (like sulfates, sodium chloride, formaldehyde and synthetic colors) that can irritate and dry out your scalp and strands, for an ultra-hydrating cleanser instead. Reach for ones that are specially formulated for dry and damaged hair as these are loaded with natural moisture-boosting and hair-strengthening ingredients.
"On the ingredients list, look for pure proteins, like keratin and wheat. These strengthen the hair from the inside out and replace the natural proteins lost in the hair strand," suggests Shelton. For those with curly or textured hair, Shelton says jojoba, argan and macadamia oils can help your locks regain its strength, shine and manageability. "All three are lightweight but incredibly nourishing," she adds. Other ingredients to keep an eye out for include avocado, coconut and olive oils, shea butter, vitamins D and E and biotin. These natural ingredients are known for their moisturizing and reparative properties that aid in fortifying weak strands along with promoting a healthy scalp.
To remedy dry and damaged hair, hydration and protection are key. Below are more tips on how you can restore your hair to its lustrous glory.
DO make protective products a part of your daily regimen, says Cosmillo. Always spray on a heat protectant before using a blow dryer or styling iron. Shelton agrees and adds, "Heat opens up the cuticle of each hair strand, leaving the underlying protein and moisture exposed. If unavoidable, find a heat protectant that protects up to 450 degrees."
DO treat your hair to a weekly mask. "Leave it on for five minutes while showering and rinse with cool water to seal in the moisture," Cosmillo recommends.
DO cut down on shampooing, suggests Shelton. "The oil our scalps produce is designed to keep our hair in optimal health. If you're shampooing every day, consider cutting back to every other day and replacing with a dry shampoo," she explains.
DO go for regular trimming. "Just a little dusting off of the ends of your hair will keep it from breaking," says Stone.
DON'T forget your scalp. A healthy scalp not only makes sure you don't add dandruff and itchiness to your hair concerns, it also promotes faster hair growth. The easiest way to keep your scalp in top form is by doing a scalp massage. "Get that blood flow up to those follicles and keep your scalp pliable," says Stone.
Best Shampoos for Dry, Damaged Hair
Ready to say goodbye to frizzy, brittle and lackluster tresses? Here are our top picks for best shampoos for dry and damaged hair!
Buy now

with Dermstore

This moisturizing shampoo pampers your tresses with its luxurious blend of caviar extract and powerful proprietary ingredients that restore moisture, prevent color from fading and boost protection from everyday damage. In fact, it's clinically proven to improve shine, texture and manageability after just one use. Don't believe it? Take it from one Dermstore shopper who says, "Your hair will feel silky and smooth even after the first try."

Buy now with free delivery