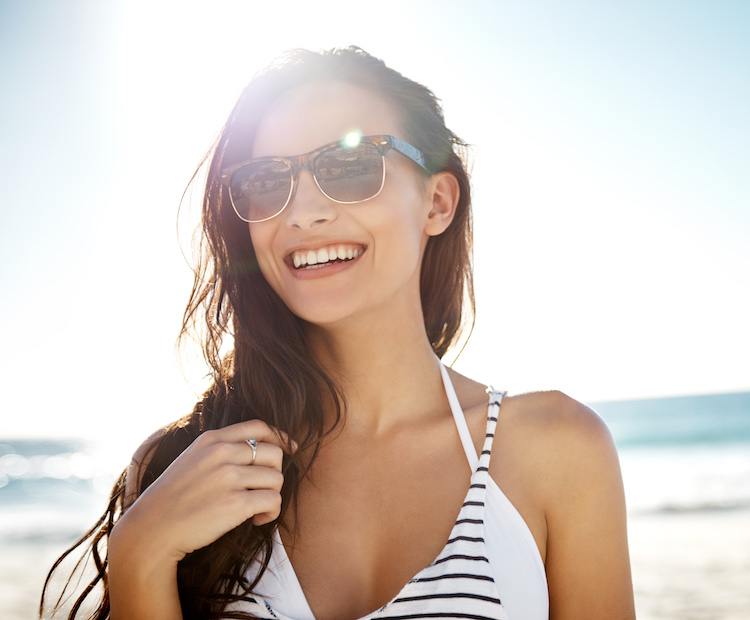 Everyone is always on the lookout for good skin care advice, but it can get old hearing the same repetitive suggestions. We're told to drink more water, take off our makeup before bed and wear SPF daily, but most of us care to know the other tips and tricks that those with clear and radiant skin are actually following—because, let's face it: we know they are doing something special.
If you're sick of hearing the same advice, look no further. I spoke with a number of experts with gorgeous skin to get their most unique skin care tips you won't find anywhere else. Here are 10 of their best-kept secrets.
1. Use egg yolks as a face mask. 
The answer to good skin could be sitting in your refrigerator: Egg yolks make a great skin-tightening mask. "When I was little, my mother used to place beaten egg yolks on her face until it dried," says dermatologist Dr. William Kwan. "At the time, I thought the homemade mask was odd, but now I realize that egg yolks are high in lipids and cholesterol—which improve skin elasticity. The mask also helps hydrate and can soothe skin irritation."
Related Reading: 10 Face Serums That Will Banish Fine Lines and Wrinkles
2. Moisturize with rose water.
Moisturizing is clearly an essential part of a good skin care routine, but you don't have to just stick to your run-of-the-mill creams; you can opt to use something a little more unique, like rose water. "One of my favorite natural moisturizers is rose water," says Kwan. "It's inexpensive and smells good, too. It can be used on its own, or you can mix some with your favorite face or body moisturizer."
Related Reading: 6 Beauty Waters Your Skin Will Love
3. Get the most out of your sheet masks. 
Improve your skin while you're out and about by making the most out of sheet masks. Celebrity esthetician Gina Mari cuts her sheet masks into strips and will place them directly under her eyes. "It's a foolproof way to give your under-eye area a quick boost, and it will catch any eye makeup residue helping to avoid having to clean anything up," she says.
Related Reading: The Best Face Masks for Sensitive Skin
4. Cut down on your sugar intake. 
In addition to watching what you put on your face, you always have to pay attention to what you put in your body. The more sugar you eat, the more your skin is going to suffer. "Our immune system normally breaks up cholesterol plaques in our arteries, allowing unimpeded blood flow to continue as normal," says dermatologist Dr. Amy Spizuoco. "Smooth blood flow allows for optimal delivery of oxygen and nutrients to the largest organ in the body, which is—you guessed it—your skin. Sugar chains act as a kind of protective shellac over those cholesterol plaques, making it much more difficult for our immune systems to break them up, which may be the reason you're having a bad skin day."
Related Reading: The Best (and Worst) Foods for Your Skin
5. Get your daily dose of vitamin D. 
Of course, too much sun exposure is going to cause damage and increase your risk of skin cancer, but this doesn't mean you need to hide away indoors as much as possible. "UV rays aren't all bad," says dermatologist Dr. Bobby Buka. "In small doses, before your daily sunscreen application, a little UV light releases endorphins and also slows down bacterial growth on the skin's surface. And while there are plenty of other dietary ways to get vitamin D, a little bit of sun can help with that, too."
Related Reading: Hello, Sunshine: Everything You Need to Know About Vitamin D Deficiency
6. Use an ice cube to reduce puffiness. 
Esthetician Biba de Sousa wraps an ice cube in plastic wrap and ices her face when it feels warm, puffy or fatigued. "Ice reduces inflammatory heat and tightens and lifts the skin, but it also feels restoring and refreshing," she says. "The great thing about this kind of icing is that it could be done anywhere—at a hotel room, in the airplane, at the office. It only takes one to two minutes to finish the procedure."
Related Reading: 8 Daily Beauty Habits That Are Aging Your Eyes
7. Load up on vitamin C—inside and out.
"I truly swear by vitamin C, internally and externally," says de Sousa. "I take a vitamin C/Glutathione IV drip at my naturopath's office. Glutathione helps with liver cleansing and that makes skin bright, shiny and firm." Because vitamin C is an antioxidant, it can help protect against UV damage as well.
Related Reading: 9 Vitamin C Serums That Are Worth the Splurge
8. Apply your eye cream around your lips, too.
"Some of my best DIY secrets are products that can be used in more than one area," says dermatologist Dr. Marina Pered. "It simplifies beautification and cuts down on too many products in your medicine cabinets. Peredo uses TNS Eye Repair around both the eyes and the mouth. "This luxurious cream is great around your eyes, as it contains TNS, but it is not limited to just one area," she says. "It can be used for the fine lines around the mouth in small doses to plump up the appearance of the pout."
Related Reading: The Best Eye Cream for Your Under-Eye Woes and Budget
9. Make your own exfoliating scrub. 
Avoid harsh exfoliants and make your own DIY product at home. "I have found that the secret to glowing skin can be found right in your kitchen," says beauty blogger Amber Stanfield of The Suburban Socialite. "I like to make an exfoliant using fresh lemon juice and fine coffee grounds, which I mix together into a 'paste.' Sounds crazy, but it works like a charm! The lemon juice helps with fading hyperpigmentation over time, and the enzymes in the lemon juice help to increase your skin's radiance by gently dissolving dead skin cells. The coffee grinds work as a gentle exfoliant."
Related Reading: The Beginner's Guide to Exfoliation
10. Multitask with a product that lets you relax and rejuvenate. 
Something to help you relax and rejuvenate your skin at the same time? Count me in. "Daily baths with Epsom salt not only soften and help keep my skin all over healthy looking, but the gentle steam from the tub on my face helps the skin on my face remain youthful looking," says holistic health practitioner Claudia Matles.
Related Reading: Benefits of a Salt Soak