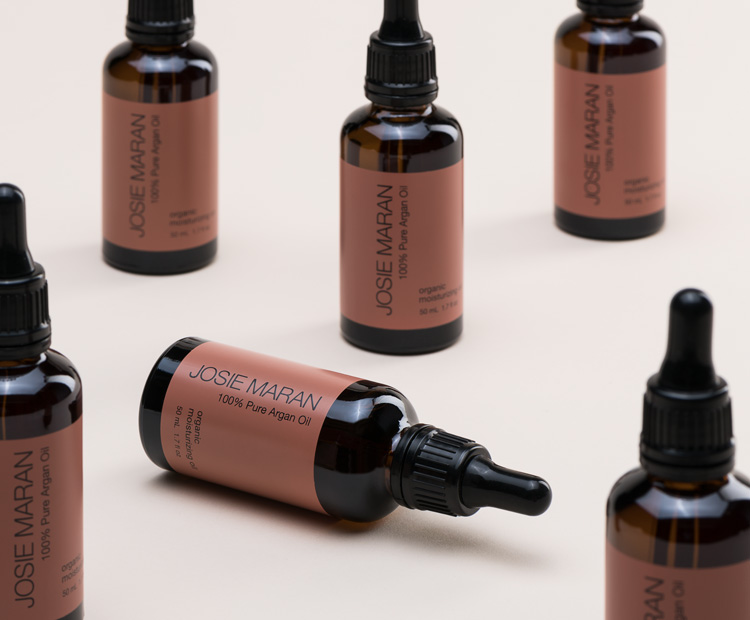 You probably know by now that argan oil, alone or in combination with other ingredients, is a powerhouse in the beauty world, known for its smoothing and nourishing properties that benefit the skin and hair. Extracted from the nuts of argan tree fruit in southwestern Morocco, argan oil was traditionally used in cooking and treating skin infections, says Dr. Natalie Yin, M..D., assistant professor of Dermatology at Columbia University Medical Center. These days, argan oil is found in many skin and hair care products, touting everything from banishing blemishes to repairing damaged hair to smoothing out wrinkles. But does science actually support these claims? We talked to the experts.
The Health Benefits of Argan Oil
Argan oil contains high levels of vitamin E, an antioxidant, explains New York–based dermatologist Dr. Fayne Frey, M.D. Antioxidants protect skin against free radicals, molecules that damage cells in the body, leading to disease. A study published in the journal Pharmacological Research found that taking argan oil orally could help prevent heart disease and protect against cancer. Another study published in the Journal of Clinical Nutrition noted that due to its antioxidant properties, argan oil can help lower bad cholesterol and reduce cardiovascular disease risk.
The Skin Care Benefits of Argan Oil
As for its skin care benefits, a study published in the International Journal of Molecular Science notes that plant oils (including argan oil) have anti-inflammatory and antioxidant effects that promote wound-healing and repair the skin's barrier (the outer layer of skin that keeps moisture in and irritants out). Besides vitamin E, argan oil is also high in unsaturated fatty linoleic acid, an essential fatty acid that your body can't make on its own, says Dr. Frey. The two most common essential fatty acids are Omega 3 and Omega 6. Essential fatty acids are necessary for good health—once they're in the body they transform into other molecules and have anti-inflammatory benefits (such as reducing pain caused by inflammation, like arthritis pain.) That, coupled with the fact that argan oil provides anti-inflammatory benefits, means that this ingredient may be helpful for those with dry, eczema-prone skin, explains Dr. Frey.
Another study showed that argan oil can help mature skin stay hydrated because of its ability to retain water. For the study, 60 postmenopausal women applied argan oil every day for a month—at the end of the 30-day period, the women had much more water content in their skin than when they started. "Our findings suggest that the daily consumption and application of argan oil has improved the skin hydration by restoring the barrier function and maintaining the water-holding capacity," write the study authors.
Argan oil isn't just good for dry skin—it can even be beneficial to those with oily skin. "Topical argan oil has been reported to help regulate sebum production," says Dr. Yin. In fact, that's exactly what a study published in the Journal of Cosmetic Dermatology found. Participants, all of whom had oily skin, were asked to apply a cream with saw palmetto (a type of small palm tree found in Florida), sesame seeds and argan oil for four weeks. At the end of the study, the researchers reported that "There was a significant reduction in the casual sebum level by 20% and area covered with oily spots by 42%."
The Hair Care Benefits of Argan Oil
When it comes to hair care, a study published in the International Journal of Trichology notes that argan oil is able to keep hair moisturized, meaning you may find benefits from it if you have dry hair. Another study published in the journal Evidence Based Complementary and Alternative Medicine points out that argan oil can help treat dry hair and may even help reduce hair loss.
Precautions to Note
If you're interested in adding argan oil to your beauty routine, keep in mind that products with this ingredient may contain additives (like silicones, fragrances, etc.) that can be irritating, explains Dr. Yin. That's why finding a pure version of argan oil is important. Furthermore, "testing the product on a small patch of skin first should be done to make sure you are not allergic or sensitive," she advises.
Best Products with Argan Oil
Ready to give this nourishing oil a try? Here are seven argan oil–infused products worth adding to your skin and hair care routines.
Buy now

with Dermstore

Try: Eminence Organic Skin Care Lavender Age Corrective Night Concentrate
From soothing and smoothing skin to providing antioxidant protection, consider this your one-stop shop for younger-looking skin. This nighttime concentrate minimizes the look of wrinkles thanks to hydrators like argan and jojoba oil, calms irritation and evens out skin tone thanks to lavender.


Buy now with free delivery

Buy now

with Dermstore

Try: Josie Maran 100% Pure Argan Oil Light
Using an oil on oily skin sounds counterintuitive, but trust us, it's a good idea (if you find the right oil). This oil is solely made from 100% pure argan oil with a lightweight finish to protect skin against environmental damage while balancing oiliness so that you're left with a beautiful glow, not greasiness.


Buy now with free delivery

Buy now

with Dermstore

Try: Oribe Gold Lust Hair Oil
The antidote for dry, lackluster hair is an oil packed with shine-enhancing, ultra-hydrating ingredients. This hair oil certainly fits the bill. Lightweight argan oil adds shine, curbs frizz and protects against environmental damage, while fruit and flower extracts protect hair from heat and dye damage. Jasmine oil soothes a flaky scalp and shea butter gives dry, damaged hair a wallop of necessary moisture.


Buy now with free delivery

Buy now

with Dermstore

Try: Naturopathica Argan & Peptide Wrinkle Repair Eye Cream
It's true that your eyes are the window to your soul and they can often make you look older than you really are. This eye cream works to smooth the look of fine lines, wrinkles, dark circles and puffiness with a potent combo of anti-aging ingredients including argan plant stem cells (which tighten and tone skin), daisy flower extract (which brightens dark circles) and Edelweiss plant stem cells (which firms skin).

Buy now with free delivery

Buy now

with Dermstore

Try: Josie Maran Argan Enlightenment Illuminizer
The key to combating the appearance of dull skin? Applying a luminizing highlighter. This shimmery highlighter is loaded with argan oil to moisturize skin (remember: moisturized skin = glowing skin) and jojoba oil, another very nourishing ingredient. Beyond giving you a major dose of radiance, it also smooths and blurs skin for a filter-like finish.

Buy now with free delivery

6. To Gently Exfoliate Skin

Try: H2O+ Beauty Sea Greens Body Scrub
If you've ever used a body scrub before, you know that they can sometimes be drying. Not this one. Sea salts exfoliate dead skin cells, while argan oil helps keep skin moisturized so that you leave the shower feeling soft and smooth, not dry and flaky.


Buy now

with Dermstore

Try: GROWN ALCHEMIST Intensive Hand Cream
Whether due to harsh winter weather or over-washing your hands, there are a lot of different factors that can leave you with dry, irritated skin. That's why keeping a hand cream in your purse and on your nightstand is a must. This one relies on argan oil to nourish hands, hyaluronic acid and vitamin E to strengthen skin and fruit extracts to provide antioxidant protection, all without any greasy residue.

Buy now with free delivery