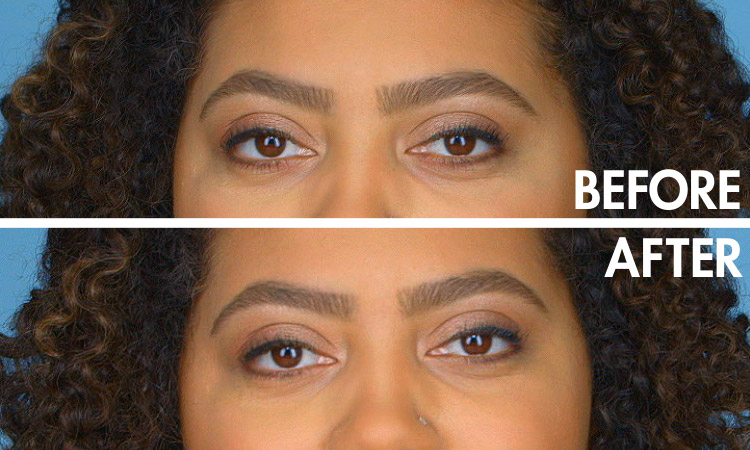 When it comes to smoothing fine lines and wrinkles, we all know that patience is a virtue. Even the most studied topical ingredients, like retinol or vitamin C, could take weeks before you can see visible results, even when applied religiously. But this, of course, changed when NuFACE launched its first-ever microcurrent device a few years back: The Trinity Facial Toning Kit. This at-home toning device is designed to deliver gentle microcurrent energy to instantly firm, smooth and tighten the look of skin—all for just five minutes a day. Let us repeat: five minutes a day. Even our content director who tried it was amazed at the results after trying it for the first time.
So when we heard NuFACE is coming up with a thinner, sleeker and more portable version of the NuFace Trinity, we were beyond excited. Just like the Trinity, NuFACE FIX Line Smoothing Device is designed to target the appearance of fine lines and wrinkles—in three minutes! And because it's slimmer and smaller, it's able to maneuver in the smaller areas of your face: around the eyes, lips and forehead. Curious to know how—and if—it works? Read on.
How NuFACE FIX Works
If you've never tried any NuFACE device before, the first thing you'll need to understand is how microcurrent works. Microcurrent is a clinically tested therapy treatment used in spas and medical offices for facial contouring, toning and firming of aging skin. It is a low-level current that mimics the body's natural current, and has been shown to stimulate the production of ATP (adenosine triphosphate), which drives the creation of key structural proteins, such as collagen and elastin.
This increased ATP energizes the facial muscles, similar to how exercise energizes the muscles of our bodies. Unlike anywhere else on the body, the facial muscles are directly connected to the skin, so the result of energizing the muscle is often an improved, lifted appearance.
Aside from the NuFACE FIX device, the kit also comes with the NuFACE FIX Serum, which is also supercharged with active beauty ingredients that help smooth, tighten and brighten skin:
PŪRE ENERGY™ BLEND – A proprietary complex with magnesium enriched gemstone, snow mushroom extract, and hyaluronic acid to recharge skin with bursts of microcurrent energy while locking in moisture.
SMART PEPTIDE SYSTEM – Maximizes efficacy of the device by targeting and fighting the look of expression lines, helping to smooth the look of skin.
IONIZED FORMULA – Delivers supercharged skin care benefits at every level by interacting with your skin's natural charge to help restore its firmness and suppleness.
We Tried NuFACE FIX, Here's What We Think
To find out if NuFACE FIX works, we put it to the test. In the video below, Dermstore's Sam Aviles shows us how to use the device, and what happened to her skin after using it for the first time. Keep watching to see before-and-after photos, and scroll down to read more about what she thinks about the device.
What was your first impression of the device?
I thought it was sleek, easy to handle and use. And because it's lightweight, it looked like something that would be easy for me to pack in my purse. 
What were your expectations about the device?
On the site it said it would reduce wrinkles and fine lines in as little as three minutes. I don't really have deep wrinkles around my eye area, but I see a little crow's feet starting to show when I smile.
Did you have any concerns before trying the product? 
No concerns. I've heard some good things about the NuFace Trinity device and read an article about it, so I was very excited to try this.
What was your experience like?
The serum that's included in the box with the device was very moisturizing. It felt soothing under my eyes.
The device itself was very easy to use, and quite relaxing too. I just swiped it across my under-eye area in quick, circular motions (as if I'm literally erasing lines with a pencil eraser) and just did it over and over for three minutes. It was quick and painless—something I could easily do while I'm watching TV or reading a book.
What were the immediate effects that you noticed?
My skin felt tighter and less puffy around my eyes almost immediately. I do think it's effective. I also love how easy it is to use. I also like that I didn't experience any adverse side effects. I would highly recommend it if you want to reduce puffiness and wrinkles around the eyes.
More Tips to Get the Most Out of Your NuFACE FIX
Ready to try it? To make sure you're reaping the benefits of this device, follow these tips:
Cleanse your skin before applying the NuFACE FIX Serum.
When using the NuFACE FIX device, do the "feathering" technique. Swipe the device around eyes, mouth, forehead and nasolabial folds in a quick erasing motion. Treat each area for three minutes up to two times per day.
Tap the remaining NuFace FIX serum after using the device or apply anytime your skin needs a refreshing boost.