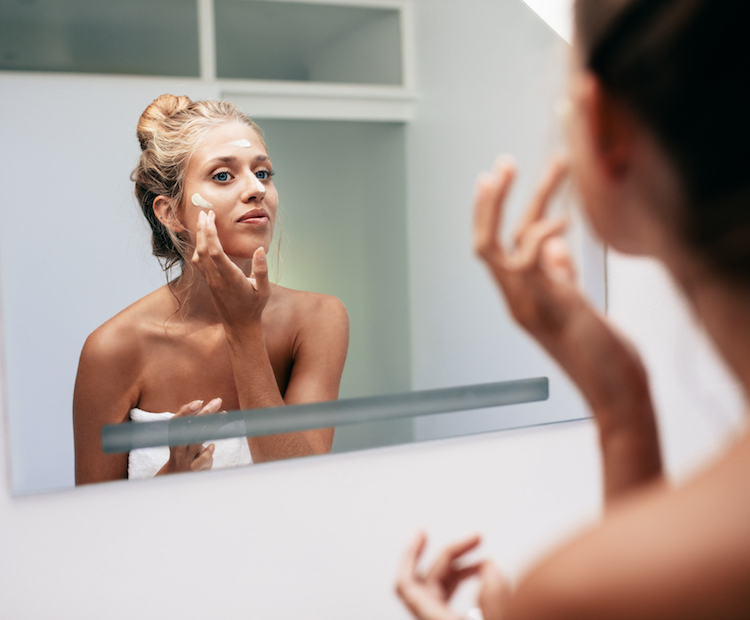 Your ideal skin care can be tough to figure out. Maybe you wash your face every night only to wake up to a new breakout. Maybe your skin is always dry no matter how much moisturizer you slather on. That's because not all skin is created equal—and there are way more skin types beyond oily and dry.
Take, for instance, combination skin. You're basically dealing with two different skin types, so it can be especially tough to treat. If you're thinking of the classic combo of an oily nose and forehead with dry cheeks, we have some news: it doesn't end there. "You could also have dryness through the T-zone and break out on the cheeks," says Joanna Vargas, celebrity esthetician and founder of Joanna Vargas skin care line.
Totally confused? Don't be. With the right ingredients and beauty routine, you can easily treat your skin to get it to its most flawless.
Ingredients Best Suited for Combination Skin
When you're dealing with combination skin, oil is your friend—specifically, jojoba oil. "Jojoba oil is a great ingredient because it controls oil while hydrating skin," explains Vargas. It's like the best of both worlds—and so common in face cleansers, moisturizers and (of course) face oils that there's really no reason not to use it.
Dermstore recommends Elemis Gentle Rose Exfoliator face cleanser (it's clarifying but gentle) and Paula's Choice Skin Balancing Pore-Reducing Toner, which both clears out pores and calms redness. For tough breakouts around your oily areas, try Sunday Riley U.F.O. Ultra-Clarifying Face Oil, which teams up jojoba oil with acne-fighting salicylic acid.
Also, if your T-zone tends to be the acne-prone kind of oily, look for formulas that contain honey. Honey has both antibacterial and anti-inflammatory properties—which can help with any breakouts—but also deeply nourishes and soothes skin, and can therefore moisturize any dry areas. It's the star ingredient of Naturopathica Manuka Honey Naturopathica Manuka Honey Cleansing Balm, which works for any and every skin type—making it perfect for combination skin.
Exfoliation + Combination Skin = Balance
Regular exfoliation is also essential because it benefits both dry and oily skin types. "It helps keep the pores clean so you don't break out as much and keeps the rest of your skin looking bright," says Vargas. Look for one that pairs gentle chemical exfoliants, like lactic acid and fruit enzymes that lightly slough away dead cells, with clay, which will help unclog pores and sop up shine. Use it two or three times a week to keep your skin balanced. Try the Exfoliating Mask from her line, which (bonus!) also includes hydrating hyaluronic acid.
What Not to Use
As for what not to use, avoid any formulas that have a high concentration of glycolic acid, a common (and super-strong) chemical exfoliant. "It's overly drying and doesn't help the skin correct itself in the long run," says Vargas. You can use it if you have an especially stubborn breakout, but if it causes any sort of redness or stinging, switch back to your usual products. The key is balance—so, as long as your products aren't too drying or too oily, you (and your skin) should be good to go.