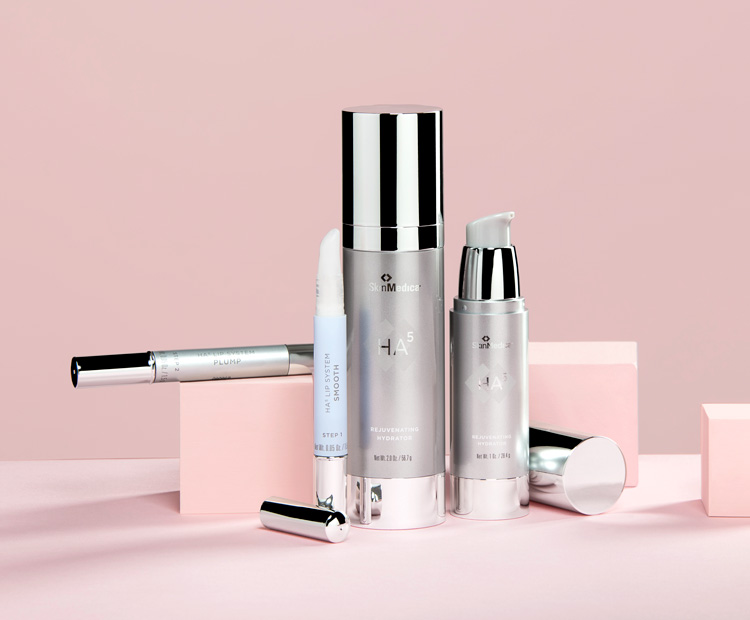 As we blow yet another birthday candle with each lap around the sun, plenty of aspects of our lifestyle change. From transitioning from the single life to the married, to saving money for weekend getaways to preparing for retirement—age inevitably requires transformation. The same is true for your skin: what you needed at 20-something isn't what your pores crave as you weed through your 30s, 40s, 50s and beyond. In addition to the basics of maintaining a healthy glow—from sunscreen and moisturizer to serums and masks—minimally invasive treatments can also work wonders in preventive care. Of the top picks by celebs and experts is hyaluronic acid fillers. Not sure if they're right for you? Let our guide help you figure it out.
What does hyaluronic acid filler do?
If you're not schooled on chemistry—no worries. Hyaluronic acid (HA) is a natural sugar that is found in our body that can hold up to 1,000 times its weight in water. When we are younger, we have plenty of it—which is what keeps our skin vibrant and fresh. But over time, we lose this. That's why plastic surgeon Dr. Douglas Senderoff MD, FACS says this specific type of filler serves as a powerful humectant. "It keeps skin plump and hydrated by acting as a moisture-binding ingredient," he notes. When you receive this treatment, you'll experience fewer lines and wrinkles, and your pores will feel more refreshed.
Who are hyaluronic-acid fillers for?
Board-certified dermatologist Dr. Papri Sarkar says these fillers are safe—and recommended—for every age. But most folks will probably start considering and using them regularly past the age of 30. She explains there is a broad range of different options that cater to anyone's specific needs. "Based on the type your physician chooses, she can treat the lips, nasolabial folds, jawline, cheeks, tear troughs, temples, superficial scars or wrinkles, and even the back of the hands," she explains. They're also appropriate for men or women, so consider dragging your partner along for the experience.
What's the process like?
When you head to the dermatology office or to a trusted, trained aesthetic professional, plastic surgeon Z. Paul Lorenc, MD, FACS says you can expect to be in the office for around an hour. To begin, he says your doctor will apply a topical anesthetic to the area before injection, and sometimes, a block is administered to the lip area to ensure you feel little pain. Then, you'll be injected with the fillers, which only takes a few minutes.
How do you prepare for a session?
Even though your visit to the derm might not be lengthy, Dr. Sarkar says preparation for the injection should begin a week before. As a rule, she asks her patients to avoid blood thinners like Aleve or Ibuprofen, as well as supplements like fish oil, ginkgo biloba, garlic and vitamin E. For the 24 hours leading up to the appointment, she also recommends avoiding alcohol. This ensures you'll have as little bruising or swelling as possible, and hopefully, the sting won't be as intense.
How much does it cost?
Depending on where you live, the price will vary, according to dermatologists. Dr. Lorenc, Dr. Sarkar and Dr. Senderoff all estimate a ballpark range of $600 to $1,200 dollars, and you'll see the price tag go up or down depending on which filler your doc recommends and the number of vials you'll need to see results. That being said, Dr. Lorenc says the treatment can last anywhere from nine months, all the way to 24 months. And Dr. Sarkar notes that most folks will see a difference—right away. "The best part about HA fillers is that you see instant results. It really is like magic. Lips plump up before your eyes and eye bags disappear," she explains. "If you want a small change in one area, one treatment is usually enough. If you want a larger change, sometimes scheduling the filler over multiple sessions leads to a better and more natural-looking result."
What are some side effects?
Since this treatment is less intense than other fillers on the market, Dr. Sarkar says side effects are usually minimal. The most common one she notices is redness or swelling, around day 2. Then, around day 3 to 4, you might notice a bit of lumpiness. "These all usually resolve by day 5 and patients are very happy by then. If there's a lot of swelling, I recommend an antihistamine," she shares.
What's the best advice for after-care?
While Dr. Senderoff says both injectable and topical HA are great for restoring volume to our skin, it is equally as important to maintain a smart skincare routine if you want results to last. He recommends daily sunscreen, along with a nighttime product that features active ingredients like glycolic acid. Dr. Sarkar also suggests using a retinol, since this powerful antioxidant can treat fine lines, build collagen and even out skin tone.
What about topical HAs?
If you're not ready to go for the needle, you might consider a topical cream that delivers similar results. SkinMedica's HA5 line has a slew of offerings that feature this ingredient and claim to prolong, if not mimic, this result—but are they worth it? Dr. Sarkar says yes! Because it is a great hydrator, it will smooth the appearance of your skin when used consistently. That being said, it isn't a replacement, she adds: "Hyaluronic acid is a huge molecule that doesn't penetrate the skin barrier well when applied topically. Although silicones like dimethicone—in SkinMedica HA5—will smooth the skin, you won't get the replenished volume and plumpness that HA fillers deliver."